National Monument - Erected to recognise and honour those who gave up their lives in the cause for peace and freedom!
The National Monument, also known as Tugu Negara in Malay is a magnificent bronze sculpture that commemorates those who died in Malaysia's struggle for freedom, principally against the Japanese occupation during World War II and the Malayan Emergency , which lasted from 1948 until 1960.
The memorial site occupies an area of approximately 48,562 sq m within the same neighboring grounds of the tranquil Lake Gardens as well as close by to the Parliament House in Kuala Lumpur. This memorial site comprises of five areas - the monument itself (main attraction); a long rectangular reflecting pool with fountain; a crescent-shaped pavilion; the cenotaph; and the ancillary gardens. The monument is situated at the centre of the reflecting pool.
The National Monument stands tall and proud at 15.4m, this unique sculpture was inspired and designed by renowned American sculptor Felix de Weldon; and was built at a cost of RM600,000 and completed in 1966 over a period of 5 years. He was also responsible for the famed USMC War Memorial in Virginia, United States. There are meaningful reasons and a lot of thought put behind this piece of art. The monument depicts a group of soldiers holding the Malaysian national flag, Jalur Gemilang (Stripes of Glory) aloft. Each of the 7 bronze human figures symbolizes leadership, suffering, unity, vigilance, strength, courage and sacrifice.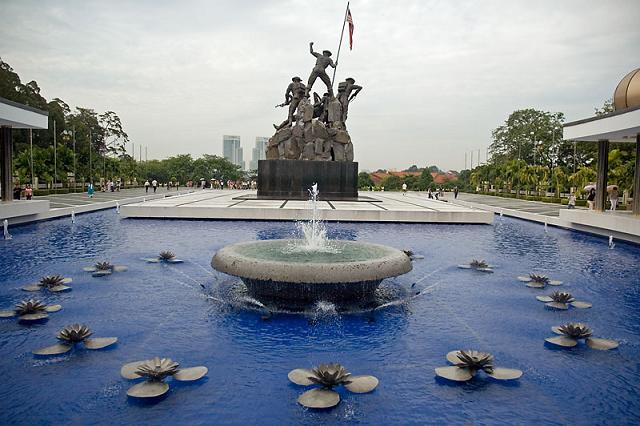 Can't figure out what the poses are? Well, the centre figure, holds aloft the Malaysian flag. He is flanked on the left and right by two other soldiers, both armed; the figure on the left is armed with a machinegun, while the other carries a rifle and a bayonet. Kneeling slightly on the right side of the central figure is a fourth soldier, who is tending to a fifth wounded compatriot. To the front and below these five figures are? Two fallen enemies of course!


The granite base of the monument bears only inscriptions in English with Roman script and Malay with Jawi script: "Dedicated to the heroic fighters in the cause of peace and freedom,May the blessing of Allah be upon them"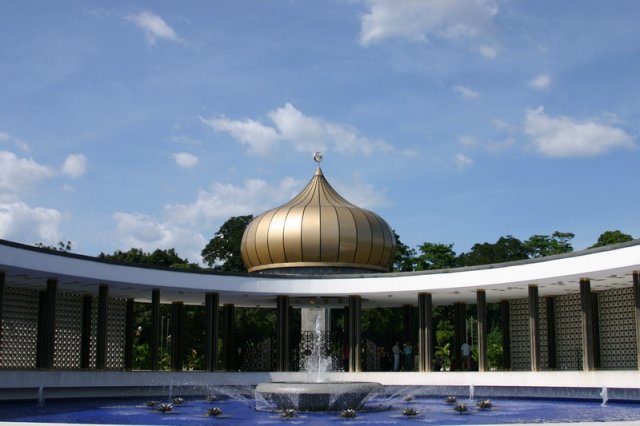 National Monument/Tugu Negara p>

Address :Jalan Tugu off Jalan Parlimen, Kuala Lumpur

Opening hours: 7am - 5 pm

Entrance Fee :Free

Phone: +60 3 2615 8188

To get there: If you are coming from the Kuala Lumpur city center, just hop on any bus that is going to Damansara and hop off at the Lake Gardens bus stop.

If you are coming from Petaling Jaya, hop on a city-bound bus that goes through Damansara and hop off at Padang Merbok

Parking :Available

I hope I was able to furnish you with exactly what you were looking for. If not, please accept my humblest apology and you may resume your search elsewhere in this search box.

Custom Search
---
Return from National Monument to Kuala Lumpur Attractions - Constructions & Monuments