Hartamas Shopping Centre - Live, Work, and Play
Sri Hartamas is proud to be the residence of the Hartamas Shopping Centre. The residents of this neighborhood would not have it any other way. They cherish their neighborhood for the quiet street and the lack of hustle and bustle that more congested areas of Kuala Lumpur have. Their shopping mall is just a short way from the homes that enjoy the proximity.
Hartamas Shopping Centre is in the center of the neighborhood so it makes access for the whole community very easy. The one thing the residents say about this shopping mall is that it is not like the giant shopping centers but they offer a varied mix of everything the neighborhood needs.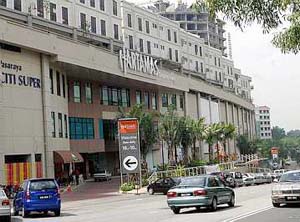 Citi Super is a ground floor grocery store with all the everyday needs, which includes the specialty items from Korea, Japan, and other areas of the country. They are also the place to go if you are looking for fresh seafood and the produce they carry is in season and of the freshest quality available.

If you are looking for home appliances, look no further than SenQ. They have the latest in electronic, including digital cameras, big screens, and DVD players. This store literally has hundreds of items from which to choose.

Their promotional space is available for cars, furniture, sporting goods, and martial arts. The wide open spaces make whatever you want to promote easy to access and the space you use for your product will be big enough for your needs.

In November they will host a Japanese food fair with the best dishes available for your tasting pleasure. If Japanese food is your food of choice you will not want to miss this year. Candy, ice cream, and pastries will also be a part of the fare.

The ground floor has about 30 businesses and the first floor is home to about 35 stores. Among the second floor businesses are women's, health and fitness, hair care, electronics, photography, and home furnishings.

The ground floor is the place to go if you are looking for food and beverage, toy stores, jewelry, eye ware, and perfumes. This is truly the shopper's paradise and the people of Sri Hartamas feel quite lucky to have the Hartamas Shopping Centre in their neighborhood.

A second floor has approximately 50 stores. With home furnishings, books and magazines, crystal, and men's store, the second floor is well equipped for shopping as well. The size of this shopping center is not considered large but it is nicely proportioned for the amount of stores required to service a neighborhood of this size. It has been said, "It is an urban oasis." and "Hang out longer in the shopping centers and one will forget they are even in Kuala Lumpur."

Some of the restaurants you will probably have heard of as they are found in the U. S. as well. Kenny Rogers Roaster, Starbucks Coffee, Bread Story, and Coast Southwest Grill are but a few. If you are looking for the perfect place to shop while you are visiting Kuala Lumpur, you need to check out the Hartamas Shopping Centre. There could probably be a few lessons learned on how to set up shopping centers from this experience.

Here's a great cause sponsored by the Hartamas Shopping Centre. On Saturdays they will have a pet adoption for those interested in adopting kittens, puppies, cats, and dogs. There may even be a few birds and rabbits that need good homes. They feature this event on the second floor on the same row as Starbucks.

Opening Hours:
Sunday to Thursday 11am - 9pm
Friday to Saturday 11am - 10pm
Open on public holidays


Address:
Hartamas Shopping Centre @ Plaza Damas
No 60 Jalan Sri Hartamas 1
Sri Hartamas
50480 Kuala Lumpur
Phone: 03-6201 8353
Fax: 03-6201 3996

I hope I was able to furnish you with exactly what you were looking for. If not, please accept my humblest apology and you may resume your search elsewhere in this search box.

Custom Search
---
Return from Hartamas Shopping Centre to Kuala Lumpur Shopping - Malls