Maju Junction Mall - Shop, Shop, Shop Away
Go shopping at Maju Junction Mall if you want to save yourself from embarrassing hilarious episodes. Kuala Lumpur is an ideal holiday getaway. While on holiday, because of scant knowledge of the city, tourists normally prefer to do their shopping at a shopping mall. It gives you the convenience and saves the hilarious antics that tourists normally go through. Some normally circle the same place several times without realizing it.
The Maju junction mall is the best choice in terms of affordability, latest trends, as well as convenience. There are various popular labels that are found at Maju Junction mall. Because Kuala Lumpur normally receives visitors from across the globe, this shopping mall has ensured that its products are benchmarked against the best in the world.
Apparels shops, footwear, hair parlors, jewelry stores as well as fitness equipment stores are found at this shopping mall. Art lovers are not forgotten. They will be in for a marvelous treat with constantly stocked arts galleries from some of the world's best artists.
There are people in this world whose hearts and minds never wander away from food. I can not say that I am exempt. However, I do believe that there are hyper food lovers. In our culture it is believed that if you are offered food, more so by a relative, you should not resist. It does not matter whether you have previously eaten or not. Sometimes I wonder which criteria these people use to establish that you are truly full. Maybe if my stomach exploded like the latest design of an atomic bomb is when they would realize that I was serious when I said was full. The Maju junction mall however, with its variety of delicacies, would not let me go to this extent. I am sure I will have the best delicacies of my choice, just enough for my tummies comfort.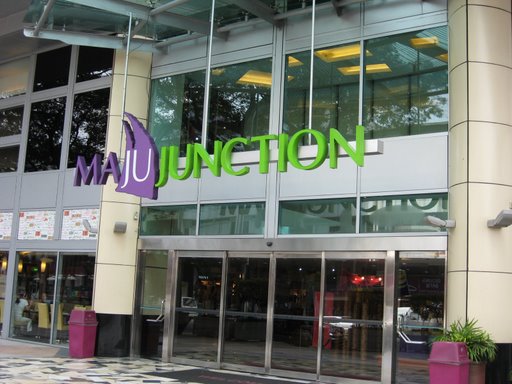 This shopping mall in Kuala Lumpur is the first of its kind to offer an absolutely fledged concierge service. The concierge service is similar to that offered by five star hotels. Personally I would not mind the convenience of such a shopping mall that offers you both a one of a life time shopping experience as well as making it easy for you to get your airline ticket.

When I was a kid, technological gadgets such as the CCTV used to intrigue me. I could not understand how such a small aperture could carry my whole frame and put it into a television without me realizing. However, the feeling of being seen in a television (it did not matter for how many viewers) filled one with a sense of accomplishment in the neighborhood. Now I am an adult and CCTV's have a different purpose. At Maju junction mall CCTV cameras are used to ensure the safety of all shoppers. There is nothing as satisfying as assurance that your safety is catered for in such a large shopping mall. In the current world, you might not know when and where Osama Bin Laden and his comrades in arms will strike next in their so called "holy war".

God willing, if you do get the chance to come to Kuala Lumpur, don't hesitate to have an experience of shopping at Maju Junction Mall. Shopping malls are found in several major cities, believe me, this one is different from them all.

Opening Hours:
10.00am to 10.00pm
7 days a week
Open on public holidays


Address:
1001, Jalan Sultan Ismail, 50250 Kuala Lumpur, Malaysia.

I hope I was able to furnish you with exactly what you were looking for. If not, please accept my humblest apology and you may resume your search elsewhere in this search box.

Custom Search
---
Return from Maju Junction Mall to Kuala Lumpur Shopping - Malls