Eye On Malaysia - Seeing Kuala Lumpur In A Whole New Light
The Ferris wheel, also known as Eye on Malaysia, was erected in the most appropriate place that is Lake Titiwangsa. The sixty meter high monster creation offers visitors a 360-degrees bird eye view of Kuala Lumpur, the capital city of Malaysia as well as the world famous KL Tower and Petronas Towers from sixty meters above the ground. Those on the wheel also enjoy the aerial view of Lake Titiwangsa as well. The Eye on Malaysia happens to be the biggest portable wheel on earth. This monster of a wheel not only offers a twelve minutes ride, but the ride is 60 meters above Lake Titiwangsa. What else can beat that? This makes it a spectacle not only to tourists but the locals as well, who just don't seem to get enough of it.

With big plans underway to convert the Eye on Malaysia into a world class water audio-visual wonderland, it's going to become the world's fourth biggest and most high-tech water screen for both light as well as sound shows. Weighing 400 tonnes with 21 spokes on the wheel which is supported by eight legs anchored down by two gigantic water tanks filled with 40,000 liters of water, this attraction is truly a marvel that few could ever imagine possible. Anyone in Malaysia who has never seen it should think again. It's not only the world's largest portable observation wheel but also one that hangs over Titiwangsa Lake.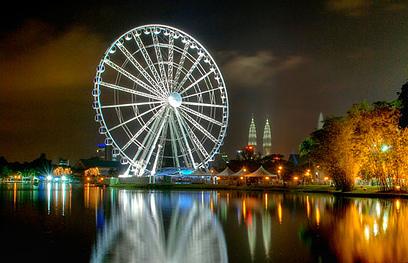 Having been built with the same concept as the famous London Eye, the Malaysian version has 42 gondolas or units in total with two uniquely made units specifically made to make it easier for the disabled, who despite their being handicapped can not afford to be left out on this world class spectacle. Then there is one more exclusive unit for the VIPs with features that can only befit royalty in every sense of the word. This exclusive VIP unit comes with an LCD screen television, mini fridge, DVD player as well as a mobile phone. The remaining 39 units, which are classic in their own way, are made with each unit having the capacity of carrying at least eight people, and are meant for the general public. They operate from Sunday to Thursday between 10 am till 11pm though this time is usually extended till 12 midnight on Fridays and Saturdays, as well as on public holidays.

The Eye on Malaysia, that happens to be a giant of a wheel, was made by Swiss technology in collaboration with a Malaysian company and an Australian enterprise that eventually came up with the biggest and the best Ferris wheel in the world. This watersky spectacular operates mainly at night alongside spectacular shows featuring jet and water ski stunts along with close proximity pyrotechnics, leaving in its wake a spectacular and once in a life time experience that is hard to forget.

I hope I was able to furnish you with exactly what you were looking for. If not, please accept my humblest apology and you may resume your search elsewhere in this search box.

Custom Search
---
Return from Eye On Malaysia to Kuala Lumpur Attractions - Fun4Everyone